LED Tunnel Lighting




Application:

Expressway Tunnel Lighting, Railway Tunnel Lighting, Urban Tunnel Lighting

Specification
Model
BOSS-TL-44
Material
Aluminum die casting lamp and luminaire as one, surface anodizing.
Protection Level
IP65
Shock Proof Protection Level
Grade I
Working Environment
-30°C~+40°C
Luminaire Lifespan
50,000 hours, light depreciation less than 30%, use in tunnel, can use for 6 years.
Color Temperature
Can be customize between 3500~7000K
CRI
75~80
Power
44W
Luminious Flux
1700~2000lm
Breathing System
No need
Size
436mm(W) x 200(H) x 62mm(D)
Weight
4~4.5kg
Features:
1. Because LED Tunnel Lighting's CRI can reach 80 and above, close to natural light. Therefore at day, car pass through tunnel, driver can quickly accept light color change, very advantage for travel safety.
2. LED Tunnel Lighting don't has "operating time" problem, can immediate work after on. It is convenient to realize Intelligent Power Saving Control, such as diagram below: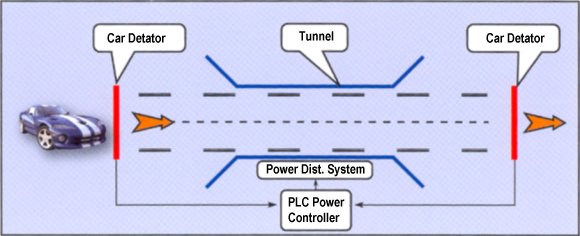 This controlling solution is compose of Car Detector which install at tunnel entrace and exit, PLC Power Controller. When no car is travel to this tunnel, PLC Power Controller will cut off tunnel power, in order to reduce electicity waste. When car approach to this tunnel, Car Detector transmit car Pass trough information to PLC Power Controller, PLC Controller provide power to tunnel lighting system in advance. After car safely pass though tunnel, controller again cut off power input, effectively avoid electricity waste, save operating cost.
Applying this solution, day can save 10%, night can save 30%, at the same time can enlong lamp using lifespan. Very suitable apply totunnel lighting system.